Leapers UTG Deluxe Tactical Vest - BLACK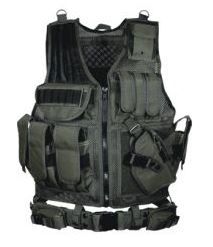 Leapers UTG Deluxe Tactical Vest - BLACK
AVAILABLE NOW!
Leapers UTG Deluxe Tactical Vest w/ Quick Draw Holster, Pouch and Belt will satisfy all your operational needs when out in the field. The UTG Deluxe Tactical Vest by Leapers combines 4 deluxe adjustable rifle mag pouches, 1 deluxe universal holster, 2 large document pouches, 3 deluxe pistol/light pouches, shotshell cartridge holder, radio pouch, id pouch, and a heavy duty back loop system. Fully adjustable in girth and length, the Deluxe Tactical Vest by Leapers will fit waists up to 54", and belt fits 36"-46".
Features of Leapers Deluxe Tactical Vest with Quick Draw Holster, Pouch and Belt:

4 Deluxe Adjustable Rifle Mag Pouches - Universal design, each holding 1 - 2 most popular mags. Features VELCRO brand touch fastener closure, drain holes and elastic to hold mags tight.

1 Deluxe Universal Holster - Adjustable position, can be replaced by the VELCRO brand touch fastener attachable mag pouches.

2 Large Internal Zippered Map/ Document Pouches.

3 Deluxe Universal Pistol Mag/Flashlight Pouches - Adjustable height.

Attachable Elastic Shot Shell Cartridge Holder.

1 Radio Pouch,1 Large ID Pouch. Sniper Shoulder.

Heavy Duty Back Loop System - To carry additional gear/tools.

Fully Adjustable in Girth and Length - One size fits most, Waist fits up to 54", Belt fits 36"-46".

Complete with Great Quality Pistol Belt with Pouches.