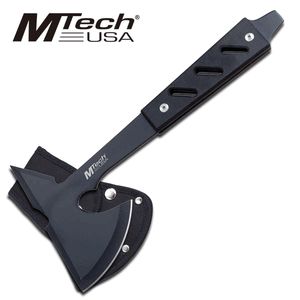 MTech 10.75" Hatchet
Emergency Kit and Camping Hatchet
This MTech 10.75" Hatchet w/ G10 Handles is one-piece construction, made of black coated 440 stainless steel. G10 handle on-lays with diagonal slots cut out in center. Metal punch, glass breaker, etc. at end of handle. Head is 5" from front to back. Comes with black ballistic nylon carrying pouch with belt loop. This is a very light hatchet but perfect for emergency packs and campers.